paperback, 52 pages, full colour, 164x242mm | NZ$19.99 RRP | ISBN 978-09582784-1-6
---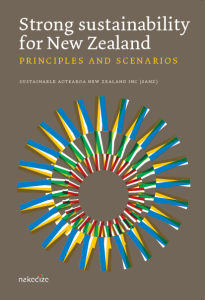 Strong Sustainability for New Zealand
Principles and scenarios
By Sustainable Aotearoa New Zealand Inc (SANZ)
…very stimulating, and a really useful way of bringing sustainability into the minds of New Zealanders in a hard hitting and realistic fashion.
Jonathon Porritt, Forum for the Future
…the arrival of [this] new report…is welcome. Perhaps if we were more comfortable having these kinds of conversations, we could skip the chaos and turmoil of waiting for disaster to alter our course.
Listener, 19 September 2009
Buy from Nakedize NZ$14.99 NZ$19.99
Summary
Humankind is neglecting its own patch, with dire consequences.
Put simply, we are drastically degrading the life-support system (the biosphere) on which we rely. That system can support only so much life, and while we may never know its precise capacity, we do know that right now we are reducing that capacity, and mostly in irreversible ways. Our over-consumption of non-renewal resources, combined with our disregard for and disharmony with our shared environment, means that our offspring are inheriting a shrinking, ailing world.
This booklet answers two questions: What does true sustainability look like and how can we get from here to there?
The authors are emphatic that any variation on 'business as usual' won't cut it. The crucial changes required for sustainability are a radical (though not uninviting) shift to a new set of societal ethics, values, and 'world views', as well as a major overhaul of economics and approaches to population growth.
At just 52 pages, this is an easy-to-digest summary of realities we must face, changes we must make, and opportunities we should embrace. Handily, the back cover of the booklet features the definition of strong sustainability and a tool to help you to identify if your activities are 'strongly sustainable'.
Press briefing (Science Media Centre)
Contents
Summary
Part 1: Introduction
Part 2: The principles of strong sustainability
2.1 Models and definitions
2.2 The required shift in societal ethics and values
2.3 The essential conditions for a sustainable New Zealand
2.4 The requirement to change New Zealand's approach to economics
2.5 The global drivers of change that New Zealand must be prepared for
Part 3: A scenario of a transition to strong sustainability
Part 4: A scenario of a strongly sustainable New Zealand
4.1 Governance and leadership
4.2 The economy, population, infrastructure and industry
4.3 Built environment, communities, and cultures
Recommended reading
Contributors
In alphabetical order
Dr Jane Adams
Prof Klaus Bosselmann
Dr Wayne Cartwright (editor)
Mr Peter Davis
Mr Simon Hertnon
Dr Robert Howell
Dr Maggie Lawton
Dr John Peet
Ms Wendy Reid
Dr Jim Salinger
Mr Kevin Trerise
Mr Rex Verity
---
NATIONAL LIBRARY OF NEW ZEALAND CATALOGUING-IN-PUBLICATION DATA
Strong sustainability for New Zealand : principles and scenarios / Sustainable Aotearoa New Zealand Inc. (SANZ)
Includes bibliographical references.
ISBN 978-0-9582784-1-6
1. Sustainable development-New Zealand.
2. Environmental protection-New Zealand.
I. Sustainable Aotearoa New Zealand.
338.9270993-dc 22
ERRATA
Page 15 (in the yellow heading): The word 'utilitarianism' is misspelled.
Back cover: The second phase in the Beyond the Threshold tool should be 'less unsustainable', not 'less sustainable'.