Courses | Full day | Public from NZ$480 per person | In-house from NZ$3900 per group | Clear, Concise, Compelling
---

Note: This course is open to individuals in Wellington through Victoria University Professional and Executive Development. A condensed version of this course is also available as part of the Skills Essentials course.
Why is this course essential?

If restaurant kitchens were filled with untrained cooks, we would be forced to endure poor quality meals, frustrating delays, wasted ingredients, and inflated wage bills. Those who write as part of their jobs are professional writers, yet most are untrained. They can all produce documents, but not necessarily timely, cost-effective ones. In just one day, this course corrects this very common and very costly educational omission.
What does this course cover?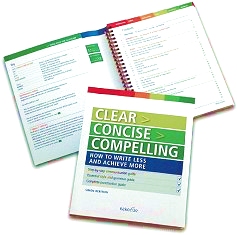 Part one: Thinking (pre-drafting)
The system (the principles of successful communication)
The principles of persuasion
The optimal information design (writing) process

Optimal briefs
Optimal outlines
Confident first drafts
Polished final drafts
Part two: Writing-up (drafting)
The tools of written communication

The impacts of style
Document structure and design
Headings and paragraphs
Sentence structure
Word choice
Grammar
Punctuation

Tips to elevate your performance from competent to excellent
All attendees receive a copy of the Clear Concise Compelling writing guidebook by Nakedize founder, Simon Hertnon.
What will you learn?

On this challenging course you will learn optimal performance principles in the morning and, in the afternoon, you will apply them to the practice of optimal document production. You will learn:
The conditions for optimal performance in general and optimal knowledge working in particular
The qualities of effective documents in a context of extreme information oversupply
The optimal information design (writing) process
How to create the conditions for optimal writing performance
How to provide clear and confident briefs
The benefits of pre-draft outlines and an explicit organisation-wide writing standard
How to design an optimal (efficient, effective, sustainable) document production process
Ten levers for improving the performance of a managed document production process
Change management techniques that aid the implementation of any new process
How do you book this course?

You will find everything you need to know (course dates, booking instructions, and booking conditions) on our courses page.

For groups, if you have already checked out the booking conditions for in-house courses, please contact us and we will give you a call to confirm your requirements.