spiral-bound, 96 pages, full colour, 195x240mm | NZ$59.99.99 RRP | ISBN 978-09582784-2-3
---
Clear Concise Compelling (2ed)
How to write less to achieve more
By Simon Hertnon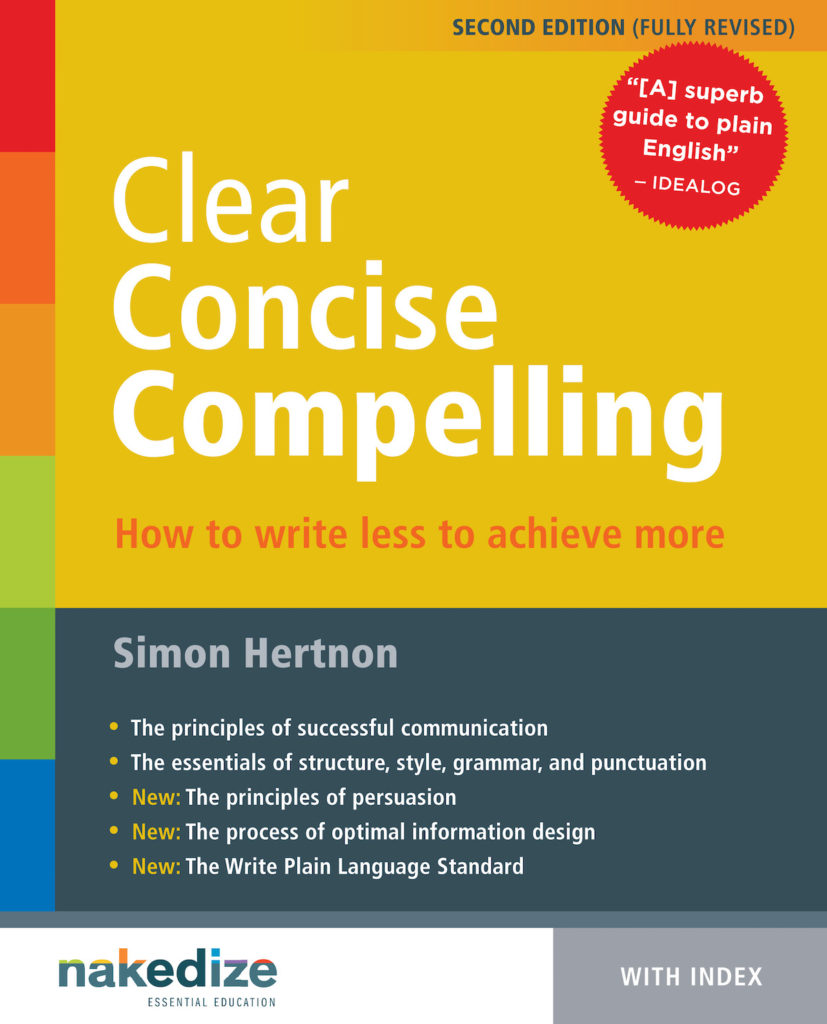 The fully revised 96-page second edition is currently being printed and you can now pre-order the book for delivery during May 2021.
Contents | Kudos | Errata | Bibliography | Online resources
Summary
The book features:
The principles of successful communication
The essentials of structure, style, grammar, and punctuation
The principles of persuasion
The process of optimal information design
The Write Plain Language Standard
Since publishing the first edition of this guidebook in 2006, Simon Hertnon has taught thousands of knowledge workers how to deliver value through their writing. Clear Concise Compelling is the coursebook for Simon's one-day Writing Essentials professional development course, which he has taught at Victoria University of Wellington since 2008.
Contents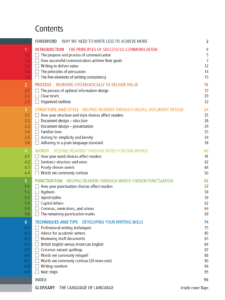 Foreword: Why we need to write less to achieve more
1 INTRODUCTION: THE PRINCIPLES OF SUCCESSFUL COMMUNICATION
1.1 The purpose and process of communication
1.2 How successful communicators achieve their goals
1.3 Writing to deliver value
1.4 The principles of persuasion
1.5 The five elements of writing competency
2 PROCESS: WORKING SYSTEMATICALLY TO DELIVER VALUE
2.1 The process of optimal information design
2.2 Clear briefs
2.3 Organised outlines
3 STRUCTURE AND STYLE: HELPING READERS THROUGH SKILFUL DOCUMENT DESIGN
3.1 How your structure and style choices affect readers
3.2 Document design – structure
3.3 Document design – presentation
3.4 Familiar tone
3.5 Aiming for simplicity and brevity
3.6 Adhering to a plain language standard
4 WORDS: HELPING READERS THROUGH WISELY-CHOSEN WORDS
4.1 How your word choices affect readers
4.2 Sentence structure and voice
4.3 Poorly-chosen words
4.4 Words we commonly confuse
5 PUNCTUATION: HELPING READERS THROUGH WISELY-CHOSEN PUNCTUATION
5.1 How your punctuation choices affect readers
5.2 Hyphens
5.3 Apostrophes
5.4 Capital letters
5.5 Commas, semicolons, and colons
5.6 The remaining punctuation marks
6 TECHNIQUES AND TIPS: DEVELOPING YOUR WRITING SKILLS
6.1 Professional writing techniques
6.2 Advice for academic writers
6.3 Reviewing draft documents
6.4 British English versus American English
6.5 Common variant spellings
6.6 Words we commonly misspell
6.7 Words we commonly confuse (20 more sets)
6.8 Writing numbers
6.9 Next steps
INDEX
GLOSSARY: THE LANGUAGE OF LANGUAGE
Classes of words
Roles of words and phrases
Groups of words
Kudos for the first edition
[A] superb guide to plain English
Idealog
Zesty and inviting
Sky Marsen, Lecturer in Writing, Victoria University of Wellington
A beautifully designed and produced book
Ed Aster, Aster Publishing USA
Here's a book I devoured. I commend it. It is such an excellent, excellent book.
Gary Ward, NewstalkZB Wellington
Fantastic. Sure to become a prescribed text and an induction pack staple.
Mark Debenham, Global Sales Manager, TourWriter
It is really clear and really concise…very worth having a copy for your teenagers, at work, wherever.
Breffni Hellyer, MoreFM Nelson
A fascinating and enjoyable read, essential for anyone interested in communication and grammar
Maryanne Ahern, Producer, Television New Zealand
It's fantastic
Ali Jones, NewstalkZB Christchurch
Easy to read…an extremely valuable communication tool
Ant Strachan, High Performance Manager Auckland Rugby, former All Black and teacher
---
NATIONAL LIBRARY OF NEW ZEALAND CATALOGUING-IN-PUBLICATION DATA (to be confirmed)
Title: Clear Concise Compelling : How to write less to achieve more / Simon Hertnon.
Creator: Simon Hertnon
Subjects: English language — Writing — Handbooks, manuals, etc; English language — Usage; English language — Punctuation
Publisher: Nakedize
Edition: 2nd ed.
Publication Date: 2021
Format: 96 p. : col. ill. ; 24 cm.
Language: English
Identifier: ISBN9780958278423 (spiral binding)