spiral-bound, 80 pages, full colour, 195x240mm | NZ$44.99 RRP | ISBN 978-09582784-0-9
---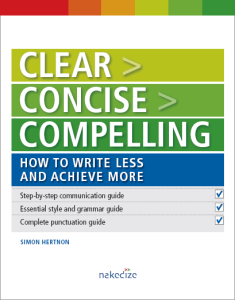 Clear Concise Compelling
How to write less and achieve more
By Simon Hertnon
[A] superb guide to plain English
Idealog
Zesty and inviting
Sky Marsen, Lecturer in Writing, Victoria University of Wellington
A beautifully designed and produced book
Ed Aster, Aster Publishing USA
Buy NZ$39.99 NZ$44.99
Contents | More kudos | Errata
Summary
From the back cover
Simon says: "We all possess incredible talents, but so many of us are held back from fully realizing those talents by one common deficiency: poor written communication skills."
Using the clear, concise, and compelling language he advocates, Simon Hertnon quickly transforms you from being someone who merely communicates, to someone who understands why you communicate and why your audience does — or does not — respond as you wish.
The majority of this inspiringly short guidebook teaches you how to write successfully, but not before teaching you the all-important principles that apply to all forms of communication.
Clear Concise Compelling is the course book for Writing Essentials.
Contents
Foreword: The goal of Clear Concise Compelling
1.0 Introduction: The principles of successful communication
1.1 How communication works
1.2 How successful communicators achieve their goals
1.3 What you need to do to write efficiently and effectively
2.0 Words: Helping readers by wisely choosing words
2.1 How your choice of words helps or hinders readers
2.2 Words that reduce the effectiveness of your message
2.3 Words we commonly confuse
3.0 Punctuation: Helping readers by fully utilizing punctuation
3.1 How your choice of punctuation helps or hinders readers
3.2 Apostrophes
3.3 Capital letters
3.4 Commas, semicolons, and colons
3.5 Hyphens
3.6 The remaining punctuation marks
4.0 Style: Encouraging readers to grant your wishes
4.1 How your choice of style helps or hinders readers
4.2 Avoid verbosity
4.3 Avoid inconsistency
4.4 Document structure
5.0 The Writing Process: Putting your writing knowledge into action
5.1 The competent writer's checklist
5.2 The benefits of writing efficiently and effectively
6.0 Reference: Expanding your writing knowledge
6.1 Professional writing techniques
6.2 Document design
6.3 British English versus American English
6.4 Common variant spellings
6.5 Words we commonly misspell
6.6 Words we commonly confuse (20 more sets)
6.7 Citation overview
Glossary: The language of language
Categories of words
Names for groups of words
Names for the roles of words and phrases
More kudos
Here's a book I devoured. I commend it. It is such an excellent, excellent book.
Gary Ward, NewstalkZB Wellington
Fantastic. Sure to become a prescribed text and an induction pack staple.
Mark Debenham, Global Sales Manager, TourWriter
It is really clear and really concise…very worth having a copy for your teenagers, at work, wherever.
Breffni Hellyer, MoreFM Nelson
A fascinating and enjoyable read, essential for anyone interested in communication and grammar
Maryanne Ahern, Producer, Television New Zealand
It's fantastic
Ali Jones, NewstalkZB Christchurch
Easy to read…an extremely valuable communication tool
Ant Strachan, High Performance Manager Auckland Rugby, former All Black and teacher
---
ONLINE RESOURCES
This section has not yet been imported. Please refer to hertnon.com/online-resources.cfm.